Bathroom Design Trends For 2019
Get link

Facebook

Twitter

Pinterest

Email

Other Apps
Cersale is an international exhibition of architectural ceramics and bathroom furnishings held every September in Bologna, Italy. This year, 840 exhibitors, including 452 ceramic tile manufacturers and 181 bathroom furnishings firms, showed off their new designs. More than a third of the exhibitors and nearly half of the 112,104 visitors came from outside Italy.

Much of what was on display at Cersaie carried forward trends we've already been talking about. Other innovations — like a new approach to whirlpool bathtubs — are responding to current needs or desires to live in smaller homes, disconnect and unwind, minimize consumption, and maximize personalization. Here are the hottest bathroom solutions for 2019.
1. Mix-and-Match Tiles
Why limit yourself to just one size and shade for your bathroom tiles? Now the imagination can run wild with wall finishes that can be combined in personalized designs. Companies are coming up with collections of tiles in different sizes and finishes. The designs and colors go well with one another and can be mixed and matched, leaving lots of room for designers' creativity.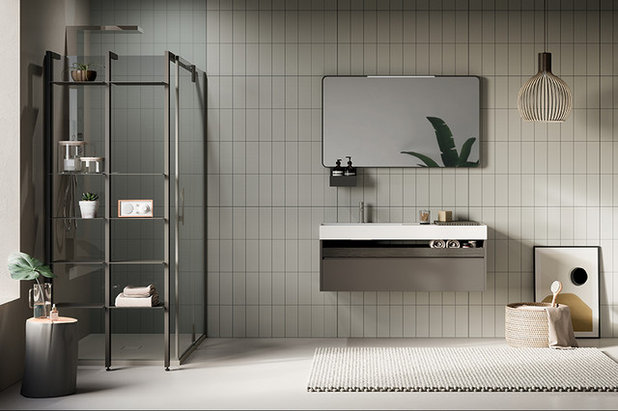 2. Stacked Tile Layouts

This year saw further experimentation with tile shape and size, but the classic subway rectangle, in several sizes, is still popular. Now we're seeing it in a stacked vertical layout.

Once considered just a technical necessity, grout lines today play a leading design role and are purposely enlarged to contrast with the tile color.

3. Asymmetrical Tiles

If you are in the mood for something different and find hexagonal tiles too static or mainstream, asymmetrical hexagonal tiles are a forward-thinking touch.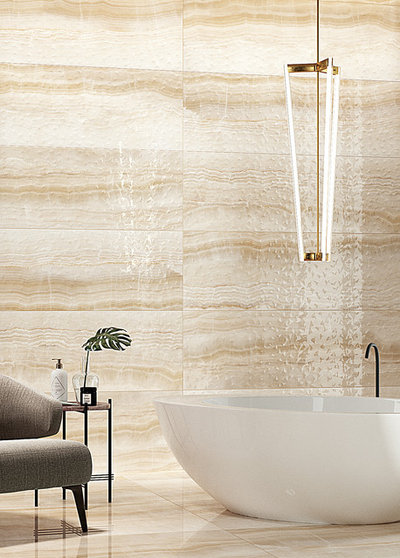 4. 3D-Effect Tiles

Relief patterns add subtle interest, especially to pure white tiles. At the fair, 3D textures also appeared on marble-effect slabs, such as these Infinity Honey Mirror tiles from Ascot Ceramiche's Excelsior collection. They enliven the classic finish and give it a more contemporary feel.


Marco Paolelli of
Meneghello Paolelli Associati
, a design firm that collaborates with a number of companies in the bathroom furnishings industry, also sees a trend toward greater embellishment.
"Having studied the industry for over 10 years and looked around, I find that a need for normality collides with a desire to exaggerate," Paolelli says. "On the one hand are simple, reassuring pieces with soft lines, and on the other hand [are] innovative collections that are abrasive in some ways and want to go beyond norms and evoke emotions. The material character of the product is experiencing its golden age. Marble 'in,' wood 'out'; decor in all its forms 'in,' minimalism 'out.'"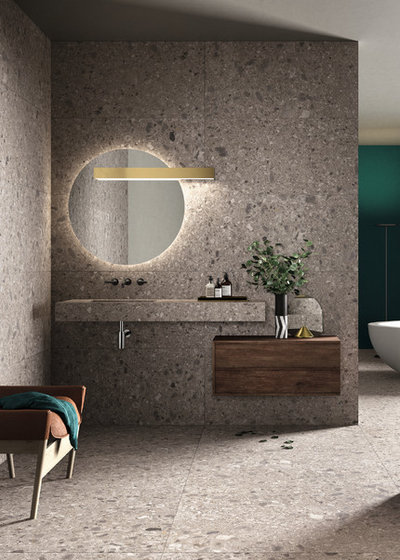 5. Stone-Effect Tiles
Natural-material purists may disagree, but there is a good case to be made for artificial stone slabs: resistance to wear and bacteria, relatively easy care and more. These Pietra d'Iseo tiles from
Cotto d'Este
are an example. The design is an imitation of a stone extracted from quarries near Italy's Lake Iseo that was widely used in the palaces of Milan and elsewhere in Lombardy.
The tiles, however, are made of Kerlite, a thin, laminated porcelain stoneware that is reinforced with fiberglass. It also incorporates an antimicrobial technology designed to use silver ions to inhibit the metabolic processes of bacteria, preventing their growth. The ions are added to the tiles during firing, so they are permanently active in the product.
6. Pastel Colors

Gray, white and marble-effect tiles are still going strong for bathroom wall and floor coverings. But among the colors at the fair, sage green and pastel pink (along with marsala) predominated.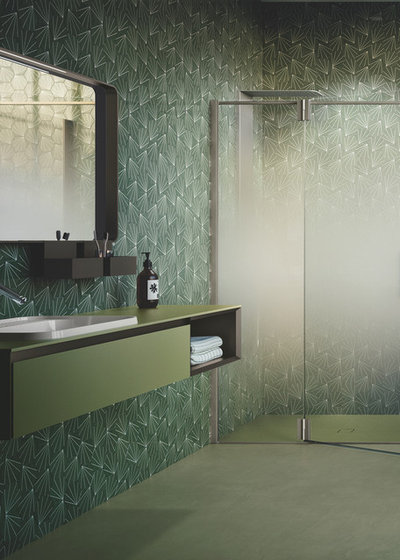 This was true not only for tiles, but also for bathroom fixtures and accessories, such as this green shower tray from the Colors collection by Agha.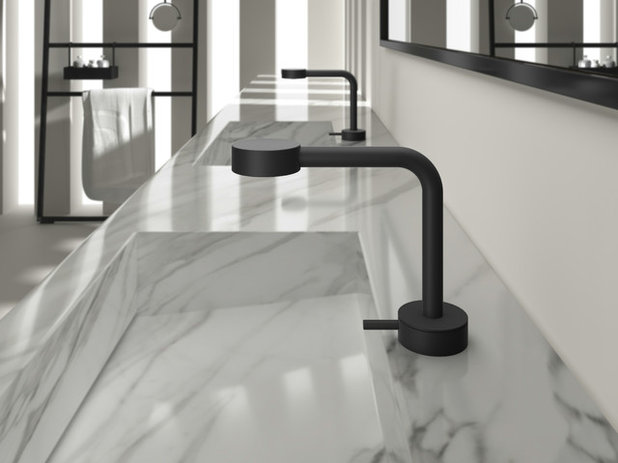 7. Black and White

Black-and-white bathrooms are always in. Faucet manufacturers are following this trend by offering sophisticated black (or white) as a standard option instead of an add-on to the chrome versions, for example.


Industrial-style showers have developed to include models with silk-screen-printed glass, such as this Libero 3000 walk-in enclosure from
Duka
. Despite appearances, it doesn't have any metal framing, making it lighter and easier to clean.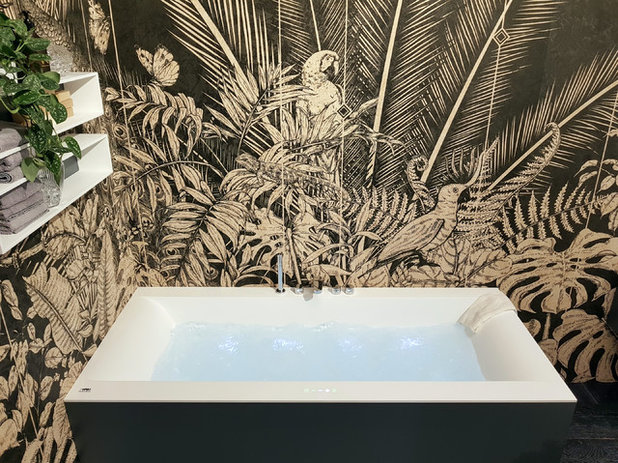 8. Thin Whirlpool Tubs
The bulky whirlpool bathtub is now fading into history, with new models that fit even into a small bathroom, thanks to innovative solid-surface materials that allow for thinner framing and more compact mechanisms. These tubs are also quieter, a feature that is not to be underestimated in a small space or an open
en suite
. What with freestanding and built-in tubs in oval and rectangular shapes, there's a model to suit everyone's needs.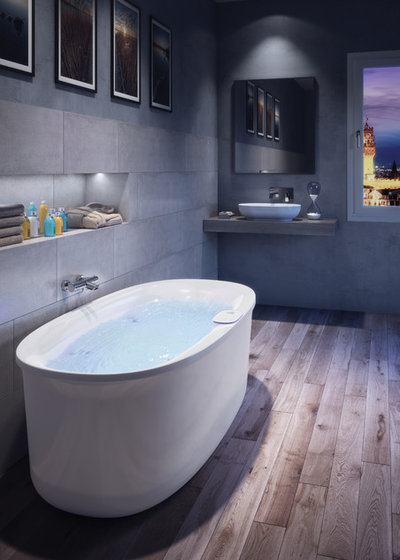 This new Arga model from
Jacuzzi
does away with bubbles, replacing the air jets with a trademarked technology designed to generate gentler vortexes that caress the bather's body. The tub also features a built-in bath-salt diffuser and lights.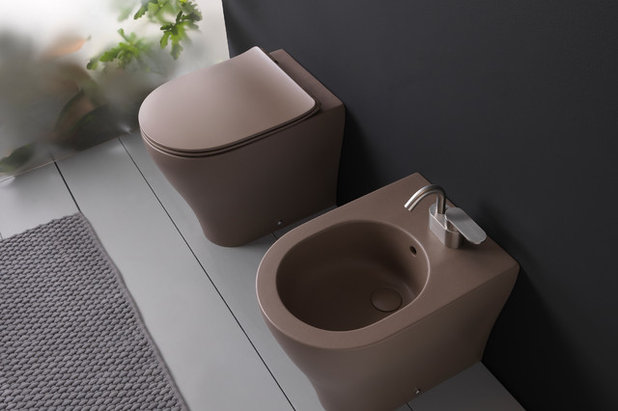 9. Rimless Toilets

Focusing on hygiene, new toilet designs included several rimless models — which make it easier to clean the bowl — with quick-release seats. For example, this model in Flaminia's App line has a seat that can be removed with the touch of a button and a toilet without an internal rim. It's shown in the new Fango color.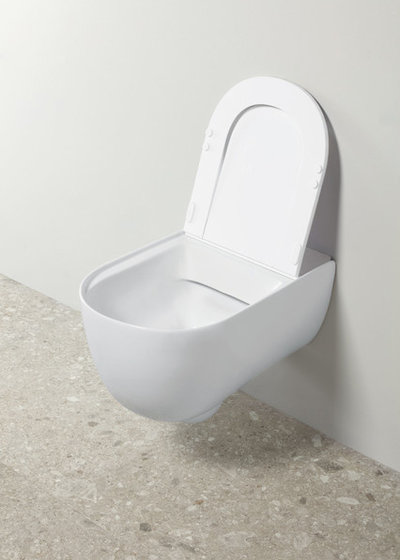 Another model is The One toilet by Artceram, designed by Meneghello Paolelli Associati. The ultrathin seat is hingeless and comes off easily, and the inside is rim-free.


10. Vessel Sinks
Vessel sinks reign supreme in company catalogs. They can be round, oval or rectangular, featuring either organic lines with finishes reminiscent of tumbled stone or a very thin and squared bowl for a more minimalist look. The sinks come in ceramic or solid surface, and the finish may be white or colored, or may resemble natural stone.
The most important element is a functional shape that reduces splash from the faucet. The support base is also key: A bowl-shaped sink sitting directly on the counter can be difficult to clean around. Solutions like these Lounge sinks, designed for
Noken Porcelanosa Bathrooms
by
Simone Micheli
, take this into account with their short pedestals.
Get link

Facebook

Twitter

Pinterest

Email

Other Apps