Design Trends Coming to a Home Near You
1. Warmer Colors
Designer Phoebe Schuh of
PS & Daughters
says she's noticing people moving away from grays and heading toward warmer colors. "Coral in all shades is becoming popular and ocher is also catching on as a fun 'boho' color," she says.
Here, a sofa in a light coral shade delivers a little dose of warmth to the bohemian-style living room.
Soda Pop Design Inc.
2. Wood Beams Everywhere
Designer Cynthia Soda of
Soda Pop Design
says she's getting requests to add wood ceiling beams "anywhere our clients can have them."
Soda incorporated several large beams in the Toronto kitchen seen here as a way to bring warmth to all the white. The beams also help accentuate the height of the room by drawing the eye upward, and they coordinate nicely with the brass accents found throughout the design.
3. Wall and Door Decals

Soda is also seeing "quirky design elements that speak to individuality," she says. One example is wall or door decals that personalize a space, such as the stenciling on a frosted glass laundry room door.
Ryan Street & Associates
4. Arched Doorways
Sometimes it's not the client asking for something but the designer lobbying for it. That's the case for Soda when it comes to arched doorways. "
I am personally shoehorning them into every design," she says. "I can't get enough."
An arched opening offers an interesting architectural detail and gives a little more delineation to rooms while still maintaining openness.
Stu
5. Flat-Panel, High-Gloss Doors

At
DesignLoft Cabinets
, designer
Kimmie Rokahr is seeing many more requests for modern-leaning flat-panel cabinets in a high-gloss finish, like those in this Dallas kitchen. The finish helps bounce light around while the flat-panel design keeps things sleek and can help make the cabinets visually recede if you want another design element to stand out.
6. A Customized Place for Everything
Paying extra attention to creating enough storage space in a kitchen for all the utensils, dishes and gadgets is nothing new. But designers like Rokahr are seeing homeowners more willing to go the extra mile during the planning phase to ensure everything has its custom-designed spot. Some designers take inventory of every dish and serving utensil to create the right-size cubby inside, say, a kitchen drawer.
The owners of
this Buffalo, New York, kitchen
took exactly that approach. They gave their cabinetmaker all their silverware so he could measure each piece and create a spot for everything.
Hurst Design Build Remodeling
7. Dark Cabinets With Brass Hardware
"Kitchens with contrast" is what d
esigner Tecola Robinson of
Tecola Camille Interiors
likes to call the trend she's seeing lately that pairs black or dark kitchen cabinets with warm brass or gold hardware. The combination delivers a high dose of drama and elegance, and creates contrast with the white tones found in popular backsplash and countertop materials.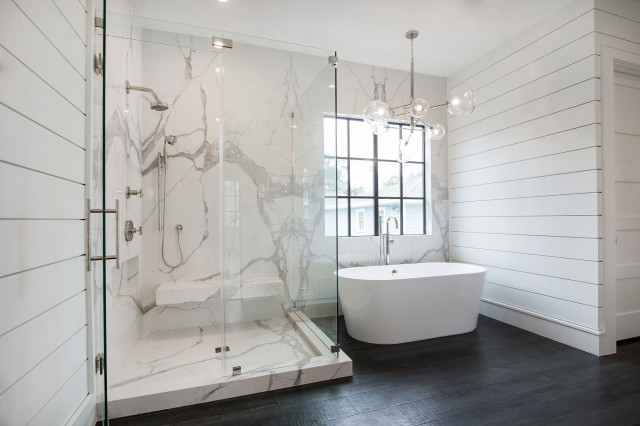 L&B
8. Porcelain Slab Showers
Tile is a popular material for showers. It's durable and offers lots of options to bring in color and texture. But the idea of maintaining all those grout lines turns a lot of homeowners off. Designer Brooke Brown of
L&B Limited Co.
is getting a lot of requests for using porcelain slabs instead. The approach minimizes grout lines while still offering durability and visual interest.
Laura Fox Interior Design, LLC
9. Maximalism
Designer Laura Fox of
Laura Fox Interior Design
is seeing a shift away from minimalism to maximalism. "People are rebelling from the recent minimalist trends and embracing the idea of actually having stuff," the designer says. "We're seeing more and more people looking for bold colors and patterns and, more importantly, ways to show off their stuff."
construction2style LLC
10. Black, White Oak and Stacked Brick Tile
When you see several design elements trending, why not combine them all? That's what designers Morgan and Jamie Molitor of
construction2style
did in the Minneapolis bathroom shown here. They were noticing lots of black, white oak and stacked brick tile coming up again and again, so they decided to bring them all together in one design.
Black rectangular marble tile in a stacked pattern and
black
porcelain hexagonal floor tile
feature in this all-black shower. The c
ustom floating oak vanity adds a sliver of warmth and texture to the otherwise cold surfaces.