Easy DIY Patio Projects You Can Tackle Over the Weekend
So you're a little late to the outdoor party, but now that the unofficial start of summer is here, you're realizing that you need to deck out your patio for what will undoubtedly feel like the best summer ever. But if you're hoping to score a bargain, after a year of shortages and unexpected expenses, you're probably out of luck.
Rather than spending hundreds or even thousands of dollars on brand-new decor for your favorite outdoor space, why not make it yourself? We spoke with design and DIY experts from all over to uncover some pretty patio pieces you can easily—and cheaply—put together. Here are six of our favorite DIY projects that will refresh your outdoor space—all in a single weekend.
1. Outdoor sectional
"Outdoor sectional furniture can transform a large backyard into a beautiful and functional outdoor space," says designer Zoe Warren of Price Your Job. "Outdoor sectional furniture sets are the centerpiece of any modern patio."
2. Fire pit
"Adding a fire pit to your backyard is a perfect way to create a gathering place," says designer Andra DelMonico of Trendey. "It also gives you natural light and warmth for increased usability at night. The gentle glow of the crackling fire creates an ambiance that's perfect for socializing with friends and family."
3. Bench swing
We all love a good porch swing, but who wants to pay the incredibly high price for a new one? Save your funds for something else, and instead build this adorable hanging bench swing from House One.
"Bench swings provide a restful spot for your family to relax this summer," says Warren. "These swings are a much cozier option than a standard stationary bench, and if the classic bench size is too big for your porch, you can always make single-seater swings."
4. Picnic table with built-in cooler
"Wouldn't it be nice to grab another drink without getting up? A table with a cooler in the center allows you to keep your drinks cold and accessible while hosting your next get-together," says DelMonico.
What's even better, the little table insert can be used for a variety of other things—like a planter, or even a fire pit.
5. Backyard Tiki bar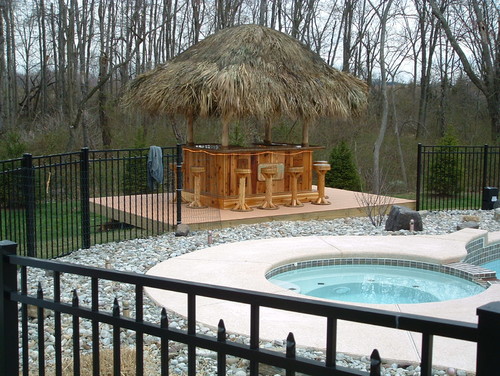 If you mastered the at-home cocktail during quarantine, then why not show off those skills with a brand-new DIY Tiki bar in your backyard?
"Stepping in and out of a Tiki bar feels like a romanticized version of island life, so it's no wonder we love them for outdoor spaces," says Warren. "As well as creating an exotic aesthetic to your garden, Tiki bars function as a great way to serve beverages to your guests without the trouble of multiple trips in and out of the house."
Consider adding a few extras to your Tiki bar—like dimmable string lights, bamboo and rattan furnishings, water features, and, of course, ludicrously named drinks. Craft your perfect tropical watering hole with this easy project from DIY Network.
6. Deck planters
"Adding planters to your deck gives you extra space to grow plants," says DelMonico. "Choose flowering plants that add natural colors or tall, dense ones that will grow to be a natural privacy wall. If you live somewhere sunny, you can even add some shade to your backyard with plants that have large leaves."