5 Features for a Stylish Small Bedroom
1. Large Furniture
It might sound counterintuitive, but adding large furniture to a relatively small bedroom helps call attention to the pieces rather than the dimensions of the room, which visually makes the room appear larger.
Here, an armoire takes up a big footprint, but it brings such a large dose of style and soothing tone that it doesn't feel overwhelming. A custom nook and integrated sconce create a clever alternative to a nightstand.
I recommend going with light neutral colors for large furniture pieces, as they take up less visual weight than dark colors.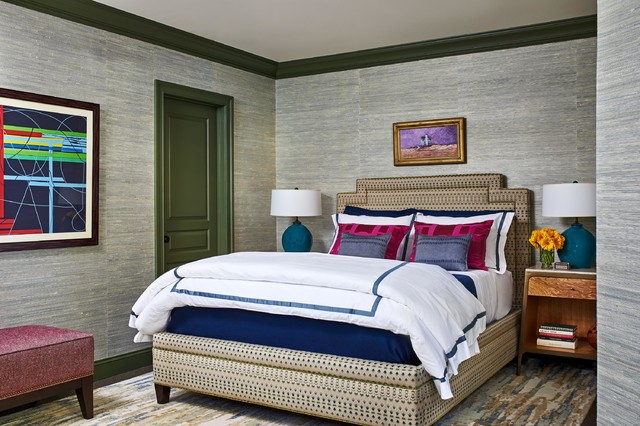 DANE AUSTIN INTERIOR DESIGN Boston & Cambridge
Since the bed is usually the biggest piece of furniture in a bedroom, some homeowners try to downplay it by going for a super minimal frame or skipping a headboard. But putting focus on a substantial piece will help enliven the space as a whole.

Then you can build on that piece with other elements that create complementary layers. Notice how the padded and patterned bed frame and headboard here grabs your attention. Then your eye moves around to the similar tones in the grasscloth wallpaper and trim paint. Table lamps coordinate with the bedding. Magenta pillows work with the upholstered bench. And a large area rug pulls all the colors together.

It's a relatively small room, but the somewhat maximalist approach makes it look much more spacious.